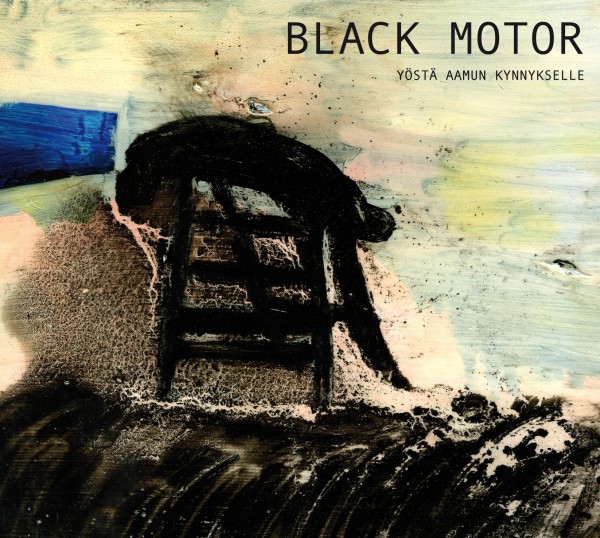 Even though the members of Black Motor come from the coastal town of Pori, the rural...
mehr
Produktinformationen "Black Motor - Yöstä Aamun Kynnykselle CD"
Even though the members of Black Motor come from the coastal town of Pori, the rural municipality of Kangasala and the small inland city of Jyväskylä, the roots of the trio lie deep in the soil of the city of Tampere. Saxophonist Sami Sippola, bassist Ville Rauhala and drummer Simo Laihonen could undoubtedly have congregated elsewhere as well, but the easy-going, brotherly and open rock and jazz community of Tampere provided the perfect breeding ground. After taking their individual tentative steps in the scene, a new band became an inevitability.

In January 2005, after making their mark and gathering many lifetimes' worth of experience with various line-ups both transient and permanent, the threesome felt that the time was right to set up something new, something they all could call their own. The framework would come from the soulful and rootsy free jazz of Albert Ayler and John Coltrane, but the attitude and method was snatched from punk rock. After playing the first show under the moniker of Black Motor in May 2005, momentum started to gather and it took less than two years before two recordings were out. Released in 2007, Black Motor and On Duty document a diamond in the rough: The ambitious group was nothing if not bursting with potential and bravado.

More albums and appearances both as a trio and with exciting guests followed, and media started to take note – first locally, then globally. As a 2009 concert at the Tampere Jazz Happening was reviewed by All About Jazz, special attention was directed to the backseat: "Laihonen inserted a Milford Graves and Hamid Drake-like polyrhythmic display underneath the two-horn frontline." At this point Black Motor had four albums out. Both Club El Toro and Vaarat vastukset had been released in 2008, and word was spreading like wildfire. Pushed along by well-received gigs where Sippola, Rauhala, and Laihonen were joined on stage by top improvisers such as guitar master Jukka Orma and woodwindsman Jorma Tapio, the hard-working jazz trio was breaking out of its mould as a cult band.

Gigs abroad began appearing in the calendar, and a milestone was reached as a particularly riveting show was released as Black Motor's fifth album. Never Out of Fashion – Live in Amsterdam came out in 2010 paving the way for a breakthrough. As the jazz scene in Finland then was dominated by recycled hard bop and somewhat stale soul jazz, Black Motor's free and raunchy outlook was a welcome breath of fresh air. The gutsy band that was once dubbed "grunge-like in persona, music and name" by All About Jazz had become Finland's most talked about improvising team.


The point of no return arrived in 2011 with the release of Hoojaa. Whereas all Black Motor's previous discs had mainly documented the driven band as it interacts on stage, the sixth album had more focus. Built exclusively on Kusti Vuorinen's compositions, this was Black Motor distilled and forged into something timeless. No wonder that Hoojaa was shortlisted for the annual Jazz-Emma (i.e. the Finnish equivalent of the Jazz Grammy). Keeping true to the arduous approach, next year's yield was another two albums: Jumehniemi a meandering trio effort, Rubidium a more concentrated set featuring celebrated trumpeter Verneri Pohjola. At this point, favourable reviews were par for the course both in Finland's biggest daily newspapers Helsingin Sanomat and Aamulehti as well as leading Finnish rock magazine Soundi.

And the juggernaut rolled on. Come summer 2012, as the list of featured live guests had already grown to include pianist/harpist Iro Haarla, guitarist Raoul Björkenheim, and reedsman Jone Takamäki, Black Motor upped the ante by announcing that legendary saxophonist Peter Brötzmann would join them on stage at their home arena, Club Telakka in Tampere. "Black Motor sound refreshingly hard and gruff", commended Brötzmann in a later interview with Soundi magazine. Before 2012 came to an end the band also found time to perform with pianist/composer Samuli Mikkonen and lauded saxophonists Juhani Aaltonen and Mikko Innanen. The triumphant year was wrapped up with a landmark appearance at the London Jazz Festival.

"Finland is ripe with new, important and exciting sounds, including Black Motor's volcanic mojo", noted Down Beat when reviewing the threesome at the Tampere Jazz Happening in November 2012. To take matters even further, Sami Sippola, Ville Rauhala and Simo Laihonen will showcase a new approach with meditative ballad album Yöstä aamun kynnykselle, to be released in October 2013.
Weiterführende Links zu "Black Motor - Yöstä Aamun Kynnykselle CD"