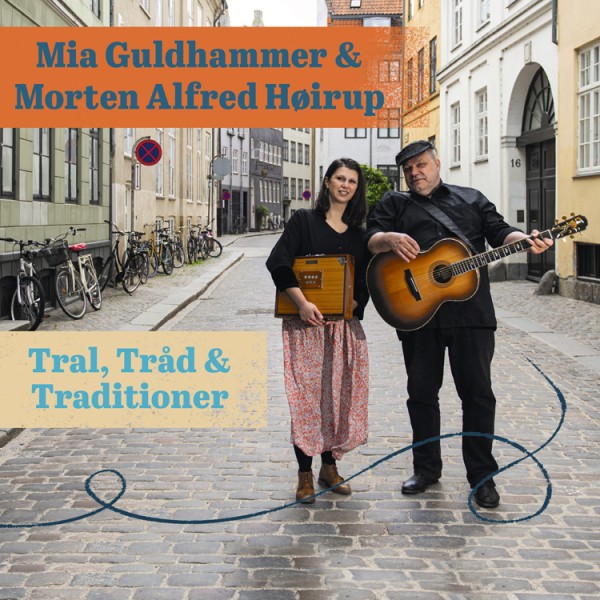 CD + 16p. booklet & descriptions (DK & UK language) The Danish folk music tradition...
mehr
Produktinformationen "Mia Guldhammer & Morten Alfred Høirup - Tral, Tråd & Traditioner CD"
CD + 16p. booklet & descriptions (DK & UK language)

The Danish folk music tradition features a huge number of fantastic songs, from many time periods. There are happy songs and joking songs, but there are also deep and heartfelt ballads featuring stories about failure, longing and eternal love. Eternally valid items..

The duo Mia Guldhammer & Morten Alfred Høirup's lively approach to - and renewal of - the Danish singing and music tradition, together with their own compositions and their close interaction with the audience, has already attracted attention not only in Denmark but also internationally. As a consequence the duo will tour in DK in 2021, and in i.a. DK and USA during 2022.


Tradition carrier and singer Mia Guldhammer and guitarist and singer Morten Alfred Høirup gives you a broad selection of these songs. They might be old and in a foreign language, but the melodies are beautiful and good fun, and the stories behind the songs not only move and entertain you, they also offer substance for thoughts, even if some of them are several hundred years old.

The songs are being arranged for vocals and guitar, spiced up with 'mouth music' and instrumentals inspired by traditional as well as new music from Denmark.

On this new release Tral, Tråd & Traditioner you will be presented for more than 12 tracks, guests and a 16p. booklet with introductions (Danish/English)

Mia Guldhammer (Vocals, shruti box)

Mia grew up singing and playing in her parent's family band, and later she studied at the Danish folk music center in Hoager, and at the youth program ROD. Today Mia is well known and respected as one of her homelands most skilled and profiled folk singers. Every year she sings for thousands of people at viking- and medieval markets, venues and festivals in and outside Denmark with, amongst others, the Danish band Virelai (medieval music).

Morten Alfred Høirup (Guitar, vocals)

Morten Alfred is known and respected on the Danish and international roots and folk music scene, as an innovative, dynamic and deeply original guitar player, singer and composer. He grew up playing in his father's wedding band, and for decades he has toured around the world performing traditional as well as new Danish music and songs. He has received quite a few Danish Music Awards (Danish 'Grammy'), including 'Danish Folk Composer of the Year in 2004.



Featured guests:

Clara Tesch – Violin, Vocals claratesch.dk

Charlotte Andersson – Soprano- and Alto Saxophone, Vocals charlotteandersson.dk

Louise Nipper – Vocals soundscapestudio.dk

Mads Kjøller-Henningsen – Hurdy-Gurdy, Wooden Flute, Percussion, Vocals madskh.dk

Kristian Bugge – Violin kristianbugge.com

Tapani Varis – Dubble Bass, Overtone Flute, Jews Harps, Vocals facebook.com/tapani varis

Arto Järvelä – Violin artojarvela.net

Tracks



1. Brudegaverne (Trad)/Lybekkeren(Trad)/Altergang (Guldhammer & Høirup) 3:54

2. Sorgen (Trad)/Håbets Dans (Høirup) 3:48

3. Polka Umulius (Guldhammer & Høirup) 3:11

4. Hvordan Vil Du Forsørge Jer (Music: Trad,Lyrics: Høirup)/Rejsen Til Canada (Høirup) 3:35

5. Rundt På Gulvet (Trad)/Dansen (Guldhammer & Høirup) 3:55

6. Hare Løb (Trad/Høirup)/Hyppää Pois (Trad) 5:02

7. Sig Mig Hvor Mange Har Elsket Dig? (Trad) 3:30

8. Åh Min Nikolaj (Trad)/Russeren (Trad)/ Den 2. Russer (Høirup) 4:53

9. Lyse Nætters Polska (Høirup) 2:50

10. En Sang Jeg Fremfører (Trad)/Bette Mand (Trad) 2:51

11. Hyttevisen (Trad)/Lysets Engel (A.P. Berggreen) 3:31

12. En Lørdag Aften Så Kom Op Til Mig (Trad) 4:28
Weiterführende Links zu "Mia Guldhammer & Morten Alfred Høirup - Tral, Tråd & Traditioner CD"